In Fall 2023, i will be moving to Chicago to begin studying towards my Master of Fine Arts in Studio, Performance at SAIC [School of the Art Institute Chicago]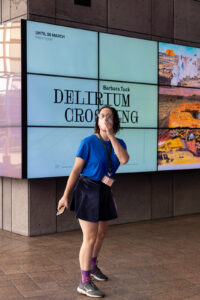 The MFA Performance at SAIC is one of the only contemporary live-performance art departments in an art school in the USA, at an undergraduate and graduate level focused on performance practice and performance studies.
I will be working with Dr Vanessa Macaulay,  Roberto Sifuentes, and  Judd Morrissey amongst others.
Mark Joseph Jeffery invited me to this program way back in 2017 after he saw a performance excerpt of my work Big Queer Anti Wedding, at a conference at York St John. After moving back to New Zealand at the end of 2017, moving to Ōtautahi mid-2018, and working for arts charities Movement Art Practice and Ōtautahi Tiny Performance Festival since 2019, i am now ready to embark on this mad arty academic journey!